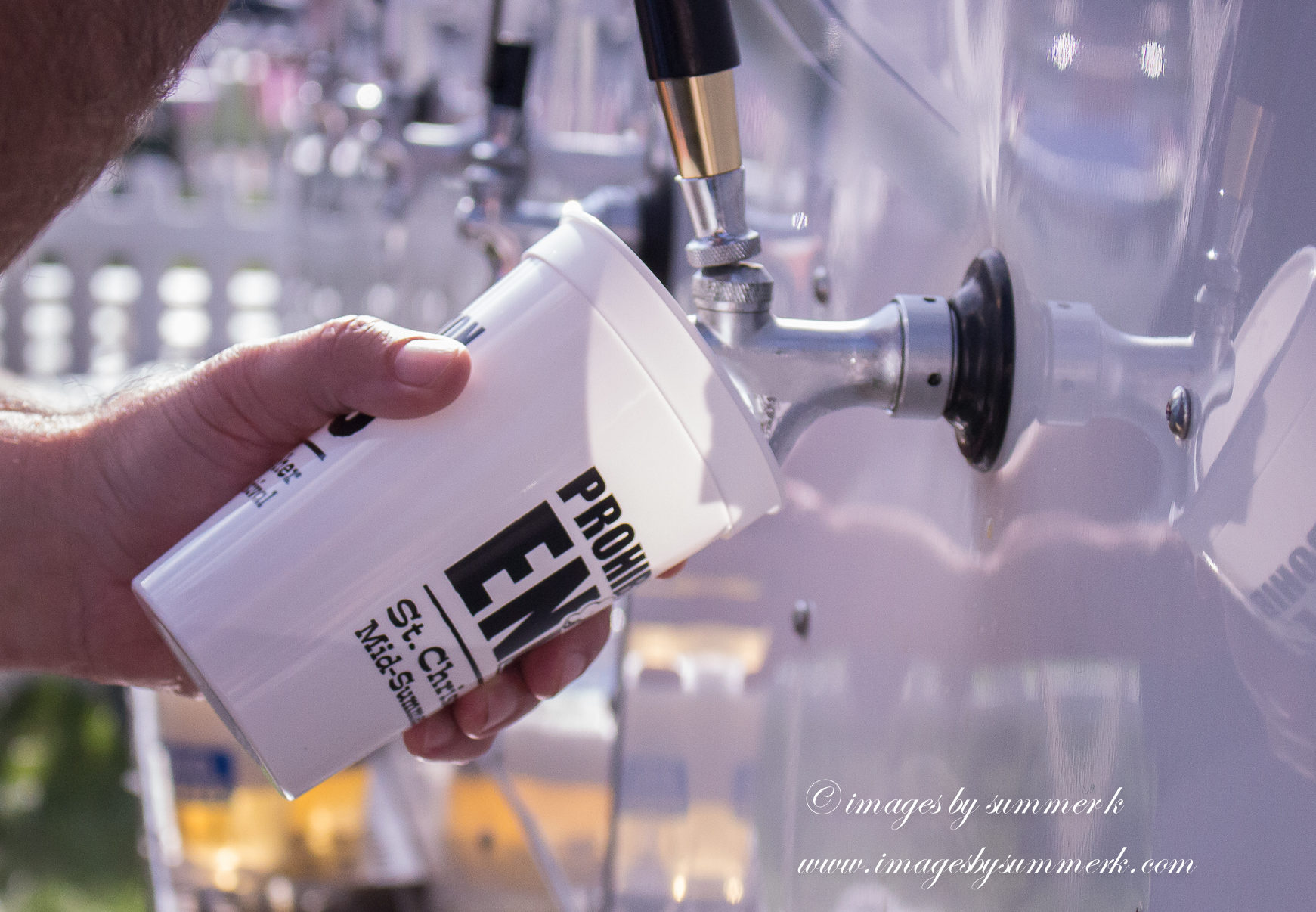 Beer Tent
For the third straight year, after a 78-year long prohibition, the St. Chris Beer Tent will be gracing the front lawn near 16th street.

This year, in addition to popular domestic beers, we're offering two selections from Thr3e Wise Men Brewing Company in Broadripple, IN.

Our delicisous wine selection will be from Easley Winery in Indianapolis, IN.

The Beer Tent is not wheelchair accessible, as it's located on a rough grass lawn.

HOURS:
Thursday, July 19, 2018: 5:00pm – 10:00pm
Friday, July 20, 2018: 4:00pm – 11:00pm
Saturday, July 21, 2018: 2:00pm – 11:00pm
Beer Tent Menu
Below is our complete menu for the Beer Tent. We accept cash, credit card, ApplePay and AndroidPay at this location. All guests must be at least 21 years of age to purchase or consume alcohol. Please note that the menu and prices are subject to change at any time, without notice.
| | | |
| --- | --- | --- |
| Bud Light | 16oz Draft Pour | $5.00 |
| Michelob Ultra | 16oz Draft Pour | $5.00 |
| Snow Bunny Belgian Blonde Ale | 16oz Draft Pour | $5.00 |
| Rocky Ripple Pale Ale | 16oz Draft Pour | $5.00 |
| Sweet White Wine | 5oz Pour | $5.00 |
| Red Wine | 5oz Pour | $5.00 |
| Sangria | 5oz Pour | $5.00 |
| 2018 Souvenir Cup | 20oz Empty Cup | $3.00 |
2018 Festival Souvenir Cup
Check this out!

For only $3.00, you can purchase one of our dark blue 2018 St. Chris Beer Garden souvenir cups.

It starts empty, but you can fill it with your choice of our beer offerings for $5.00 as many times as you'd like (while drinking responsibly).

Why is this such a deal? Because the souvenir cup holds at least 4 more ounces of beer than our standard cups, and you get to re-fill it for the same $5 as our 16oz cups!

Sort of a no-brainer, eh?
Legal Stuff
Our alcohol sales are goverened and monitored by the Indiana Alcohol & Tobacco Commission and the Indiana State Excise Police. St. Christopher Catholic Church takes its responsibilities very seriously when it comes to properly and legally serving alcoholic beverages. We make no exceptions when it comes to serving only those over 21 years of age, over-serving those who appear to have consumed too much alcohol, or ensuring the festival remains a safe and family-friendly environment for all of our guests. With that said, please read and understand our rules below.
1. All festival beer and wine sales are goverened by, and served in accordance with, the Indiana Alcohol & Tobacco Commission.
2. No person under the age of 21 will be permitted within the Beer Garden under any circumstances.
3. Every person entering the Beer Garden must present a valid government-issued photo ID, and must wear a festival-issued wrist band at all times while possessing an alcoholic beverage on church property.
4. All beer and wine must be purchased on site, with cash or credit card. No refunds or exchanges will be offered.
5. NO SMOKING is permitted on church property.
6. No outside alcohol is permitted on church property. Any alcohol brought onto property will be seized and/or guest will be removed from property.
7. Police officers and Festival Operators reserve the right to refuse entry to, eject any person from, or deny service to any person at their sole discretion.